PEYOTE POEM, PART I
---
Clear -- the senses bright -- sitting in the black chair -- Rocker --
the white walls reflecting the color of clouds
moving over the sun. Intimacies! The rooms
not important -- but like divisions of all space
of all hideousness and beauty. I hear
the music of myself and write it down
for no one to read. I pass fantasies as they
sing to me with Circe-Voices. I visit
among the peoples of myself and know all
I need to know.
I KNOW EVERYTHING! I PASS INTO THE ROOM
there is a golden bed radiating all light
the air is full of silver hangings and sheathes
I smile to myself. I know
all there is to know. I see all there
is to feel. I am friendly with the ache
in my belly. The answer
to love is my voice. There is no time!
No answers. The answer to feeling is my feeling.
The answer to joy is joy without feeling.
The room is a multicolored cherub
of air and bright colors. The pain in my stomach
is warm and tender. I am smiling. The pain
is many pointed, without anguish.
Light changes the room from yellows to violet!
The dark brown space behind the door is precious
intimate, silent and still. The birthplace
of Brahms. I know
all that I need to know. There is no hurry.
I read the meanings of scratched walls and cracked ceilings.
I am separate. I close my eyes in divinity and pain.
I blink in solemnity and unsolemn joy.
I smile at myself in my movements. Walking
I step higher in carefulness. I fill
space with myself. I see the secret and distinct
patterns of smoke from my mouth
I am without care part of all. Distinct.
I am separate from gloom and beauty. I see all.
_______________________________________
(SPACIOUSNESS
And grim intensity -- close within myself. No longer
a cloud
but flesh real as rock. Like Herakles
of primordial substance and vitality.
And not even afraid of the thing shorn of glamour
but accepting.
The beautiful things are not of ourselves
but I watch them. Among them.
__________________________________________
And the Indian thing. It is true!
Here in my apartment I think tribal thoughts.)
___________________________________________
STOMACH!!!
There is no time. I am visited by a man
who is the god of foxes
there is dirt under the nails of his paw
fresh from his den.
We smile at one another in recognition.
I am free from time. I accept it without triumph
-- a fact.
Closing my eyes there are flashes of light.
My eyes won't focus but leap. I see that I have three feet.
I see seven places at once!
The floor slants -- the room slopes
things melt
into each other. Flashes
of light
and meldings. I wait
seeing the physical thing pass.
I am on a mesa of time and space.
! STOM-ACHE!
Writing the music of life
in words.
Hearing the round sounds of the guitar
as colors.
Feeling the touch of flesh.
Seeing the loose chaos of words
on the page.
(ultimate grace)
(Sweet Yeats and his ball of hashish.)
_________________________________
My belly and I are two individuals
joined together
in life.
__________________________________
THIS IS THE POWERFUL KNOWLEDGE
we smile with it.
___________________________________
At the window I look into the blue-gray
gloom of dreariness.
I am warm. Into the dragon of space.
I stare into clouds seeing
their misty convolutions.
The whirls of vapor
I will small clouds out of existence.
They become fish devouring each other.
And change like Dante's holy spirits
becoming an osprey frozen skyhigh
to challenge me.
---
from Dark Brown (1961)
---
OH EASE OH BODY STRAIN OH LOVE OH EASE ME NOT!
WOUND-BORE
be real, show organs, show blood, OH let me
be as a flower. Let ugliness arise without care
grow side by side with beauty. Oh twist
be real to me. Fly smoke! Meat-real, as nerves
TENDON
Ion, FLAME, Muscle, not banners but bulks as
we are all "deer"
and move as beasts. Stalking in our forest
as these are speech words!

Burn them pure as above they rise from attitude are
stultified. Are shit. Burn
what arises from habit. Let custom
die. Smash patterns and forms let spirit
free to blasting liberty. Smash the
habit shit above! ! ! ! ! ! ! ! !


LET PURE BLACK WORDS MOVE FROM THOUGHT BEHIND


* * *

&nbsp

((OH BRING OH BLOOD BACK THE COURAGE THE DEEP
THE NEGATIVE CHALLENGE
I deny. Love. Deny. Defy oh love. In blackness
a forest, oh damp earth. Put forth. Decry! Put down
until a shoot is sent forth matching. The purity
the image within. Oh crass and easy polemic

say
!I LOVE !
Let me be a torch to myself.))
OH HEART-SICK BURN STRIVE Past the drift-ease
to the depth within making a film of the gene
over the surface. Say meat hand, the hand black
in the deed as the strain toward the act. Each strike
an ugly huge music. Walking walking huge Love.

All a web from the black gene to the black
edge.
(((torture destroy tradition seek what gives damned
pleasure.)))
Exult in drugs
draw back to sight,
VISION
of purity & liberty,
MORALITY IS BEAUTY THE BEAST SPIRIT LIVES FOREVER
! !

!

I REST
---
from The New Book/A Book of Torture (1961)
---
FOR JACK KEROUAC: THE CHAMBER
IN LIGHT ROOM IN DARK HELL IN UMBER AND CHROME
I, sit feeling the swell of the cloud made about by movement
of arm leg and tongue. In reflections of gold
light. Tints and flashes of gold and amber spearing
and glinting. Blur glass . . . blue Glass,
black telephone. Matchflame of violet and flesh
seen in the clear bright light. It is not night
and night too. In Hell, there are stars outside.
And long sounds of cars. Brown shadows on walls
in the light
of the room. I sit or stand
wanting the huge reality of touch and love.
In the turned room. Remember the longago dream
of stuffed animals ( owl, fox ) in a dark shop. Wanting
only the purity of clean colors and new shapes
and feelings.
I WOULD CRY FOR THEM USELESSLY
I have ten years life to worship youth
Billy the Kid, Rimbaud, Jean Harlow
* * *
IN DARK HELL IN LIGHT ROOM IN UMBER AND CHROME I feel the swell of
smoke the drain and flow of motion of exhaustion, the long sounds of cars the brown shadows
on the wall. I sit or stand. Caught in the net of glints from corner table to dull plane
from knob to floor, angles of flat light, daggers of beams. Staring at love's face.
The telephone in cataleptic light. Matchflames of blue and red seen in the clear grain.
I see myself -- ourselves in Hell without radiance. Reflections that we are.
The long cars make sounds and brown shadows over the wall.
I am real as you are real whom I speak to.
I raise my head, see over the edge of my nose. Look up
and see nothing is changed. There is no flash
to my eyes. No change to the room.
Vita Nuova--No! The dead, dead, world.
The strain of desire is only a heroic gesture.
An agony to be so in pain without release
when love is a word or kiss.
* * *
LA PLUS BLANCHE
JEAN HARLOW, YOU ARE IN BEAUTY ON DARK EARTH WITH WHITE FEET! MICHAEL
slaying the dragon is not more wonderful than you. To air
you give magical sleekness. We shall carry you into Space
on our shoulders. You triumph over all with warm legs and a
smile of wistful anxiety that's cover for the honesty
spoken by your grace! Inner energy presses out to you in warmness -
you return love. Love returned for admiration! Strangeness
is returned for you by desire. How. Where
but in the depth of Jean Harlow is such strangeness
made into grace? How many women are more beautiful
in shape and apparition! How few can /have/
draw such love to them? For you are the whole creature of love!
Your muscles are love muscles!
Your nerves -- Love nerves!
And your upturned
comic eyes!
Sleep dreams of you.
* * *

FOR THELONIUS MONK
ALL IS COOL AND BOUNDLESS AS A ROLLING LAMB OF JAZZ, I SEE
the shades slipt behind me. Avolekiteshvara!
I am blessed and protected. I hear the beauty
of the tossing notes. I am safe!
I it does not matter Love, Avolekiteshvara, Kwannon,
love you pale beauty
see my twisted head and face grow
thin again.
PURSUE THE SLIM SHADES IN AND OUT LOST IN IT ALL
hide you from yourself., choke
on my love for you, happy
for an instant.
( All is fire and I fat myself to be a candle. )
( Careful, careful crazy man and burning heart.
) OH! OH! OH! OH! Tired old fear. OH! OH!
---
from Little Odes (1969)
---
ME RAPHAEL

THE POINT OF AGONY IS THE POINT OF AGONY!!! ALL THAT I AM,
CONVERGES
IN BLACK RIFFS, IN BLACK RIFFS. I RAISE MY HAND
to the dark dark woman. i cry stop!
to the deep repetitions -- and this is the Meat
of poesy of the secret lost secret of Writing.
I've said it all in my book of torture and beyond that point
the black riff returned in the color of dark brown

to strike finally to that same point that
I dripped in my agony -- to make a visible shield
of fleshy chivalry and nobility in my sight
of sleek skin! OH OH it is all beautiful
I HAVE DEFINED BEAUTY

I RESENT MY AGONY AND I DESPISE MY SUFFERING
SAVE FOR THEIR BEAUTY
and that I have become immortal

AND I RAISE MY DARK EYES AND MY BROWS TO SEE THEM
PAINTED ON THE FOREHEAD OF RAPHAEL

____________________________________________________

damn all!!!

damn all!!!

damn all!!!

I HAVE LEARNED EASILY THE STAR OF GLAMOR
AND I RETURN TO MANLINESS
carrying a black machinegun


* * *

HUMMINGBIRD ODE

THE FAR-DARTER IS DEAD IN MY HAND, THE BEAUTIFUL
SHABBY COLORS
and the damp spots where the eyes were. Small form
that was all spirit, smashed on the plate
glass window. The green head and ruby
ruffles. The beautiful shabby colors
and the damp spots where the eyes were.
All head and chest and the Eros-spear
of the beak. Moving like Cupid
in the fuschias.
Hummingbird and spike of desire.

The huge chest and head and the beautiful
shabby colors. Tiny legs
thrust back in the last stiff agony.

WHAT'S ON YOUR SIDE OF THE VEIL??
DO YOU DIP YOUR BEAK
in the vast black lily
of space? Does the sweetness
of the pain go on forever?

IS THERE COURAGE THERE IN THE NIGHT?
WHERE ARE THE LOVES THAT MAKE THE BLOSSOM
of your body? Do they still spin
in the air? Your wives
and loves? Are you now
more than this meat? Finally
A STAR??
---
from THE BEARD
---
HARLOW and BILLY THE KID wear small beards of torn tissue paper.

HARLOW'S hair is in her traditional style. She wears a pale blue gown with plumed sleeves.

BILLY THE KID wears shirt, tight pants, and boots.

HARLOW has a purse.

The set contains two chairs and a table covered with furs -- there is an orange light shining on them.

The Beard was acted for the first time on December 18, 1965 at the Actor's Workshop in San Francisco. The play was directed by Marc Estrin. The set was designed by Robert LaVigne and costumes were designed by Louise Foss. The cast was as follows:

Jean Harlow . . . . . . . . . . . . . Billie Dixon
Billy the Kid . . . . . . . . . . . Richard Bright

The Beard was first published in a presentation edition of 300 copies. The author wishes to extend his special thanks to Billie Dixon, Richard Bright, Marc Estrin, Robert LaVigne, and Marshall Krause of the ACLU -- for all we have gone through together to make a blue velvet eternity.
---
Introduction

by Norman Mailer
Michael McClure's The Beard is a mysterious piece of work, for while its surface seems simple, repetitive and obscene, there is an action working which is dramatic and comic at once, and the play emits an odd but intense field of attention, almost like a magnetic field, almost as if ghosts from two periods of the American Past were speaking across decades to each other, and yet at the same time are present in our living room undressing themselves or speaking to us of the nature of seduction, the nature of attraction, and particularly, the nature of perverse temper between a man and a woman. Obstinacy face to face with the sly feint and parry all in one, the repetitions serves almost as subway stops on that electric trip a man and a woman make if they move from the mind to the flesh. That mysterious trip, whose mystery often resides in the dilema of whether the action is extraordinarily serious or meaningless. It is with these ambiguities, these effervescences, that The Beard plays, masterfully, be it said, like a juggler.
---
HARLOW: Before you can pry any secrets from me, you must first find the real me! Which one will you pursue?

THE KID: What makes you think I want to pry secrets from you?

HARLOW: Because I'm so beautiful.

THE KID: So what!

HARLOW: You want to be as beautiful as I am.

THE KID: Oh yeah!

HARLOW: Before you can pry any secrets from me, you must first find the real me! Which one will you pursue?

THE KID: What makes you think I want to pry secrets from you?

HARLOW: Because I'm so beautiful.

THE KID: So what?

HARLOW: You want to be as beautiful as I am.

THE KID: Oh yeah! (Pause. He grabs her arm.)
I'VE GOT YOU!

HARLOW: It's an illusion.

THE KID: (Squeezing her arm and raising it) You mean this meat isn't you?

HARLOW: What do you think?

THE KID: What makes you think you're so beautiful?

HARLOW: Oh, my thighs . . . my voice . . .

THE KID: What about your hair . . .?

HARLOW: What do you think?

THE KID: Your hair came out of a bottle.

HARLOW: You're full of shit! My hair is beautiful and it didn't come out of a bottle -- it's like this.

THE KID: Show me your baby pictures!

HARLOW: You're crazy! Why?

THE KID: To see your hair!

HARLOW: You ARE jealous.

THE KID: You're full of shit!

HARLOW: It's blond -- don't worry! You've got buck teeth!

THE KID: SHUT UP!

HARLOW: You'd like to be beautiful! Maybe you'd even like to be pretty. You wear your hair down to your shoulders. Maybe you'd like to be a chick!

THE KID: (He takes hold of her arm -- rolls it in his fingers) THIS IS NOTHING BUT MEAT! (He sneers)

HARLOW: Before you can pry any secrets from me, you must first find the real me!

THE KID: What makes you think I want to pry secrets from you?

HARLOW: Because I'm so beautiful.

THE KID: So what!

HARLOW: You want to be as beautiful as I am!

THE KID: OH yeah!
THIS IS NOTHING BUT MEAT! (He squeezes her bare arm and rolls it in his fingers.) --Why should I want to be beautiful?

HARLOW: Oh. . . You're a man.

THE KID: Yeah?

HARLOW: You're a man . . . And men want to be beautiful.

THE KID: I'm sick of that word . . . it makes me want to puke!
YOU'RE A BAG OF MEAT!

HARLOW: What word?

THE KID: Beautiful. I'm sick of hearing that word coming from a bag of meat.

HARLOW: Don't touch my arm again!

THE KID: Or?

HARLOW: I'll cut your dumb brain open like a bag of meat!
-- Don't you think I'm . . . lovely . . .

THE KID: You smell like myrrh. Come and sit on my lap. (He pulls her arm)

HARLOW: What if somebody came in and looked!

THE KID: In eternity. There's nobody here!

HARLOW: You said I'm a bag of meat! And you said shit about my hair.

THE KID: Maybe I love you.

HARLOW: You're full of shit. WHO CAN LOVE IN ETERNITY?

THE KID: (With sureness) Sit on my lap.

HARLOW: You're a million miles away, Sweet.

THE KID: Not in eternity! . . . Sit on my lap!

HARLOW: FUCK YOU!
---
from Rare Angel (1974)
---
RAVEN'S FEATHER, EAGLE'S CLAW, EVERY
SONG EVER CHANTED
by the whale hunter
is a collector's item
and wafts like mountain fog
from node to node before becoming clouds.
EVERY
BACKWARD
LOOK
puts us in touch with sentiment,
and hurts less than peering forward,
for tomorrow is the shadow of today.
Even the blue jay
gloats over his stash
of brass buttons. See the octopus play
with the exoskeleton
of his prey.

The statement's convolution
confounds what is already done.

Bulldozed hillsides.

Scarlet flower bugles on the mountain top
overlook the graveyard.

Such elegant music when we make it
(for poets call it music)
surprises
US
in the act
of what we do.

The hand plays hide and seek
with the eye, and we grow
great brains
in honor of the game.
Then we dance and the music
follows at our footsteps
and we stop to listen
as it passes by.
WE
HEAR
THE MUSIC
OF
our selves!

Call it animal nature -- or name it Civilization.

* * *

SPARROW HAWK SKULLCAP, LIGHTNING BOLT
THAT PASSES
THROUGH THE HAND.
WAVES OF CREATURES FLOATING
AT THE EDGE OF FIRE
dive into the air and bound
through space with grace
we nearly comprehend.

Bodies: brown and black and white all blended.
Hoofed and leaping.

TURQUOISE.

CHROME! Berries and Packards all exploding, lined
with fur for force fields.

DESTRUCTION UNROLLED UPON THE PLEISTOCENE
where we stride in luscious comfort,
and love our children,
hug our pets,
experience
the alchemy of being.

THE FEW OF US LIKE WAR CHIEFS
AND LOVE-GOD PRINCES
STAND ON THE PRECIPICE WITH FOLDED ARMS.
THIS
LIFE
has
been

nothing
for
me
but
pleasure.

The worst adversity
is only a length
I measure.
I direct creation of my bed of eider blackness
and drink the juice of apples
as I sup on flesh of crabs.
I
hold great minds
that lived before me
in my hands.
I KNOW THE MEANING OF THE POWER
THAT IS CHANNELED FOR ME. AND I
calmly watch the poisons
splashed across the land.
---
from Star (1970)
---
MAD SONNET 1
THE PLUMES OF LOVE ARE BLACK! THE PLUMES OF LOVE ARE BLACK!
AND DELICATE! OH!
and shine like moron-eyed plumes of a peacock
with violetshine and yellow on shadowy black.
They SPRAY from the body of the Beloved.
Vanes shaking in air.
__________________________________
AND I DO NOT WANT BLACK PLUMES OR AGONY . . . AND I DO
NOT SURRENDER. And I ask for noble combat
to give pure Love
as best I can
with opened heart.
Love,
I have not seen you before and you're
more beautiful than a plume!
Stately, striding in Space and warm . . . ( Your
human breasts! )
LET ME MAKE YOUR SMILE AND HEARTSHAPED FACE IMMORTAL
-------------------------------
YOUR GREY EYES ARE WHAT I FINALLY COME TO WITH MY BROWN!
AND YOUR HIGH CHEEKS, and your hair rough
for a woman's -- like a lamb. And the walking virtue
that you are!
* * *
LOVE LION
OH FUCKING LOVER ROAR WITH JOY -- I, LION MAN!
I GROAN, I AM, UPON THE CONE SHAPED BREASTS
& tossing thighs!
--AND SEND MY THOUGHTS INTO A BLACKER UNIVERSE
OF SUGAR!
Thy face is a strained sheer Heart twisted
to fine beauty by thy coming.
it is a million miles from toes to thighs!
(Our bodies beat like the ultimate movie
slowed to blurs of two meat clouds becoming
one -- and the Undershroud is joined
by kissing mouths.)
OH!
OH!
And I am some simple cub
with plump muscles, loving immortality!
THE SHEETS ARE WHITE.
THE PILLOW SOFT.
JESUS HOW I HATE THE MIDDLE COURSE!
Thy eyes! Thy eyes!
---
from On Organism (1974)
---
NIRVANA ALSO DEPENDS ON THE TREASURES OF THE TATHAGATA.
YET DEATH IS NEVER A WHOLLY WELCOME GUEST.
SWIM MUSIC DARK GLOAMING THUNDER.
LISTENING SMOKE SHEET WRINKLE MORNING.
A blackened face with clouds of blue smoke from the forehead.
Russian wolfhound crunching the ribs of sheep.
An envelope filled with orchid seeds.
Bright green creatures.
Appearance of the Ghost of Love.
Chairs covered with moss.
Palm trees the size of bacteria.
The sexual thrill of darkened autos.
Ammonia.
Ammonites.
Pineapple.
Silver dollars in the stocking.
Pineapple.
Ammonites.
Ammonia.
The sexual thrill of darkened autos.
Palm trees the size of bacteria.
Chairs covered with moss.
Appearance of the Ghost of Love.
Bright green creatures.
An envelope filled with orchid seeds.
Russian wolfhound crunching the ribs of sheep.
A blackened face with clouds of blue smoke from the forehead.
LISTENING SMOKE SHEET WRINKLE MORNING.
SWIM MUSIC BARK GLOAMING THUNDER.
YET DEATH IS NEVER A WHOLLY WELCOME GUEST.
NIRVANA ALSO DEPENDS ON THE TREASURES OF THE TATHAGATA.

* * *

EACH BON MOT HAS COST ME A PURSE OF GOLD.
ERASE THE LINES OF THE NIGHT FROM THE COUCH OF THE DAY.
COOL TURQUOISE CRYSTAL FEATHER -- WOLF PROTON GYRE.
SCROLLED FERN SHADOW SPORE -- BREAST SALT MOON.
Wheel of the galaxy turning in tumbleweed.
Faces of antelope staring from ice cream.
Watches ticking on the backs of turtles.
Tambourines tinkling in apple trees.
Flames full of creatures arising from the mouths of worms
Bearded men pondering in dreams.
Bees and moths darting on the fields of purple asters.
Odor of hummingbird mint crunched under boot heel.
Maya.
Spirit.
Matter.
River.
Creek.
River.
Matter.
Spirit.
Maya.
Odor of hummingbird mint crunched under boot heel.
Bees and moths darting on the fields of purple asters.
Bearded men pondering in dreams.
Flames full of creatures arising from the mouths of worms.
Tambourines tinkling in apple trees.
Watches ticking on the backs of turtles.
Faces of antelope staring from ice cream.
Wheel of the galaxy turning in tumbleweed.
SCROLLED FERN SHADOW SPORE -- BREAST SALT MOON.
COOL TURQUOISE CRYSTAL FEATHER -- WOLF PROTON GYRE.
ERASE THE LINES OF THE NIGHT FROM THE COUCH OF THE DAY.
EACH BON MOT HAS COST ME A PURSE OF GOLD.
---
From September Blackberries (1974)
---
99 THESES

1. MAN IS A CARNIVORE EXPERIENCING HIMSELF.
2. MAN IS A MAMMAL.
3. THE UNIVERSE IS THE MESSIAH.
4. THE CREATURE IS ONE BEING.
5. ONE BEING IS POLYTHEISM.
6. THE 27 SENSES ARE EXTRUSIONS OF MESSIAH.
7. THE SENSES ARE GODS AND GODDESSES.
8. THE MAMMAL & THE STAR ARE EQUAL.
9. THE STARS ARE A GAS.
10. THE GALAXIES ARE A LIQUID.
11. ALL LIFE IS A MEAT SCULPTURE FREED OF TIME, SPACE & DIMENSION.
12. THIS SOCIETY IS A CAGE FOR THE MAMMAL.
13. ALL CREATURES OF WING, FIN, FUR, TENTACLE, PROTOPLASM -- ARE EQUAL.
14. THE PANDA IS A PEACOCK.
15. MAN IS A PANDA.
16. THE SALMON IS A MAN.
17. THE WOLF SINGS.
18. CARBON, HYDROGEN, NITROGEN, OXYGEN, SULFUR.
19. THE STAR IS A SUN.
20. CHILDREN ARE FREE.
21. THE BODY IS A CHILD.
22. THEISM REJECTS THE MESSIAH.
23. THE PHYSIOLOGICAL BODY IS PURE SPIRIT.
24. EACH SELF IS MANY SELVES.
25. THE INVISIBLE EXTENSIONS OUTWARD ARE AS COMPLEX AS THE VISIBLE EXTENSIONS INWARD.
26. THE SENSORIUM, MEMORIES, AND GENES -- ARE CONSTELLATIONS.
27. ALL CONSTELLATIONS ARE ONE CONSTELLATION.
28. LIFE SURGES.
29. EXTINCTION IS AN APPEARANCE.
30. THE SNOW LEOPARD IS A WORM ELF.
31. EARTH IS A SNOW LEOPARD.
32. LIFE IS TOPOLOGICAL COMPLEXITY.
33. WEALTH IS ENERGY.
34. ELECTRONICS DEVOLVE FROM THIS STAR.
35. THERE IS NOT INTELLIGENCE BUT INTELLIGENCES.
36. CRUELTY, TORTURE, SELFISHNESS, VANITY ARE BORING.
37. EACH MAMMAL DESERVES.
38. THE SLOTH AND THE EAGLE ARE EQUAL -- MEN ARE EQUAL IN THE SAME WAY.
39. THERE ARE, AND ARE NOT, MOLECULES AND ATOMS.
40. ONLY THE SELVES CAN DOMESTICATE THE SELF-DOMESTICATED.
41. MAN AND THE DOG ARE SELF-DOMESTICATED.
42. MEN FEED WILD MUSTANGS TO DOGS, AND WHALES TO CATS.
43. THE SEA URCHIN IS A GREAT PHILOSOPHER.
44. PLATO EQUALS CHARLIE CHAPLIN -- JESUS IS ANACREON.
45. MONEY IS FUNNY.
46. THE DOLLAR IS A COLLAR.
47. CLOVER IS A CREATURE.
48. THERE IS ENOUGH WATER FOR ALL WHO SHOULD BE.
49. EVERYTHING IS NATURAL.
50. REASON IS BEAUTY.
51. MEAT IS THOUGHT.
52. THE GREEKS WERE THE LAST TO DEIFY THE SENSES.
53. MONOTONY IS MADNESS.
54. THE FRONTIER IS OUTSIDE.
55. THE FRONTIER IS INSIDE.
56. LIFE BEGINS WITH COILING-MOLECULES & NEBULAE.
57. RELIGION, MATERIALISM, POLITICS, PROGRESS, TECHNOLOGY-ARE EVANGELISMS.
58. EVANGELISMS ARE PROLIFERATIONS OF MONOTONY.
59. REVOLUTION IS SENTIMENT.
60. REVOLT IS BIOLOGICAL.
61. THE LIGHT ON YOUR FINGERTIPS IS STARLIGHT.
62. PROPORTION AS MEASUREMENT IS FALSITY.
63. THE BLACK MAN IS NOT THE PINK MAN OR THE YELLOW -- THEY ARE MAMMALS.
64. DREAD THE POLITICO AND PREACHER WHO CAN DELINEATE A MESSIAH.
65. NATIONS ARE FALSE DIVISIONS OF CONTINENTS.
66. CITIES ARE SWIRLS OF POPULATION.
67. IT IS NATURAL TO DROWN IN CITIES -- IT IS NATURAL TO SWIM IN WAVES.
68. THERE IS ONE LANGUAGE -- GESTURE, VOICE AND VIBRATION OF BODY.
69. YOUTH IS CLUBBED WHEN IT RISES OR OPENS.
70. THE BODY IS ELF LAND.
71. THE CHILD IS A BEAST OF BURDEN -- HE IS USED FOR WAR.
72. LIFE IS NOT REST BUT ACTION.
73. LIGHT AND DARKNESS ARE ARBITRARY DIVISIONS.
74. THE FIST IS REAL -- THE MACHINE GUN, BOMB, NAPALM, ARE FANTASIES OF COMMUNICATION.
75. PROPAGANDA IS NARCOSIS.
76. POPULATION IS AN ADDICTION.
77. LOVE CAN ONLY BE MADE, OR INVENTED, WITH MEAT.
78. PRISONS AND COURTROOMS ARE MONOTONY.
79. WAR IS ONE COLOR.
80. THE PUSSY WILLOW, THE REDWOOD, THE BUTTERFLY -- ARE BLOSSOMS.
81. MADNESS IS TEMPORARY AND NATURAL.
82. WHERE THE BODY IS -- THERE ARE ALL THINGS.
83. SOUL IS BORING -- SPIRIT FLIES.
84. THE CRICKET IS A WARRIOR AND A GOD OF MUSIC.
85. THE FALCON IS A CLOSE AND TEMPORARY ACQUAINTANCE.
86. ANY SEXUAL GROUP IS APPARENTLY NATURAL.
87. CLEANLINESS IS UNDEFINABLE AND AS NATURAL AS FILTH.
88. DRUGS ARE BRIEF ALCHEMY.
89. MORALE IS VIGOR.
90. THE YOUNG CREATURE IS AGILE.
91. THE OLDER CREATURE IS STRONG.
92. WISDOM, MEMORY, IMAGINATION, ARE SENSORY -- CONSTELLATIONS OF INTELLECTIVE MEAT.
93. MODERATION DERIVES FROM MULTIPLICITY OF EXPERIENCE.
94. NOW SUCKS.
95. PAST, PRESENT, FUTURE AND DIMENSIONS ARE A FIELD FOR BALANCE.
96. LUCK IS A CREATION OF THE MEAT.
97. LUCK AND MEAT ARE DIVINE.
98. THE EYE AND TONGUE ARE A FIELD OF CREATURES.
99. MEAT' IS A MOVING CAVE IN THE SOLID AIR.

-Paris 1970
* * *
MOIRÉ
for Francis Crick

1. THE CHANTING IN TIBET HAS NOT CEASED -- IT IS AS IMMORTAL AS MEAT.
2. HORNS, CYMBALS, AND LIGHTNING BOLTS OVER GLACIERS.
3. BEARDED SEA OTTERS CRACKING MUSSELS ON STONES ON THEIR STOMACHS.
4. COYOTES LAUGH AND PRANCE ON POINT REYES.
5. REVIVE THE PLEISTOCENE.
6. PLEISTOCENE IS NOT GLACIO-THERMAL -- IT IS MEAT-MAMMALIAN.
7. CRACKS IN THE SIDEWALK REFLECT THE DISPERSION OF CLOUDS AND AURAS OF COLOR.
8. REALITY IS A POINT, A PLATEAU, A MYSTERY.
9. IT MAY BE PENETRATED.
10. WI LDFLOWERS: MAN ROOT, SEPTEMBER BLACKBERRIES, MONKEYFLOWERS.
11. POEMS AND PERCEPTIONS PENETRATE THE PLATEAU.
12. SUCCULENT GARDENS HANG ON CLIFFS.
13. THE VELVET BUTTERFLY AND THE SMILING WEASEL.
14. BENIGN VISAGES FLOATING IN AIR.
15. SPIRIT IS ACTION.
16. ACTION IS PROTEIN.
17. BONES OF THE SABER TUSK IN ASPHALT.
18. MOTILE POEMS LIKE FINGERS OR ROOT TIPS.
19. AMINO TRIGGERS IN SPACE.
20. WE ARE ACTIVITY.
21. BELOW US IS STEADY AND SOLID.
22. SOON ENOUGH.
23. PERHAPS WE RETURN TO A POOL -- STEADY AND SOLID.
24. NO MATTER -- ANTI-MATTER.
25. WE HAVE THE JOY OF HERETICS.
26. WE DID NOT CHOOSE IT -- WE ARE.
27. PERFECT.
28. PERFECT PLATEAU BECOMING ODORS AND TOUCHES.
29. I DID NOT KNOW THIS IS NATURE.
30. THE BLANKET FLOWS OUT OF THE WINDOW -- ON IT ARE YELLOW BANDS WOVEN WITH RED BISON.
31. SOLID BLACKNESS ABOVE AND BELOW.
32. MUSIC BETWEEN.
33. FORESTS OF MOSS IN THE COLD STREAM.
34. BULK OF A DEAD SEA LION -- DARK EYES OPEN.
35. THE DESERT IS ALIVE.
36. THE FIR FEELS THE SOLSTICE.
37. SENSE HORIZONTALLY, ASPIRE VERTICALLY -- AGNOSIA.
38. KEATS, DIRAC, DIONYSIUS THE AREOPAGITE.
39. TRUMPETS, CYMBALS, WARM GRASS, ROAR OF A MOTORCYCLE.
40. LEATHER, QUARTZ, AND CINNAMON.
41. DISSOLUTION IS A PRIVILEGE.
42. HAIL PLANARIAN!
43. SWEET, WARM AND ODOROUS IN THE AUTUMN SUN.
44. BLACKER THAN BLACK, BLUE-BLACK -- A MIRROR REFLECTING REDS.
45. SCREAMS AND FLAMES OVER THE HORIZON.
46. CREAK OF EUCALYPTUS BOUGHS.
47. THE PLATEAU IS A POINT, THE MASK OF A DIMENSION.
48. THE MASK IS ENFORCED BY ENSOCIALIZATION OF PERCEPTIONS.
49. SEPTEMBER BLACKBERRIES ARE FREE.
50. THERE ARE STILL BLOSSOMS.
51. CONDENSATION FALLS PATTERING ON LEAVES.
52. MACHINE GUNS COMMUNICATE BULLETS.
53. BOMBS ARE SYMBOLS FOR MEAT 'THOUGHTS.
54. FACES OF MALEVOLENCE AND FOLLY STARE FROM THE WALLS.
55. FLEECE MOVING IN THE BREEZE BY THE FIRE IS LOVELY.
56. WE ARE OLD WOLVES, INDIANS, CREATURES.
57. ETERNITY BECOMES BROWN-GOLD FOR AN INSTANT.
58. TIME IS THE LONG WAY BACK.
59. IGNORANCE, LIKE INFORMATION, IS A LEVER.
60. THE BODY'S ODORS -- THE BERRY'S ODORS.
61. THE MASS OF INFORMATION WHITES OUT.
62. RAINBOW AGAINST WHITE -- PROJECTED ON BLACK.
63. THE SELVES FLYING THROUGH THE BODY HAVE FACES.
64. THEY STREAM WITH TAILS OF COLORS.
65. SENSATION MAY PRECEDE INFORMATION.
66. WE DIVE BOTH DOWN AND OUTWARD.
67. SOLIDITY AND VIBRATION.
68. UNEXPECTED PROFILES AND FACES.
69. THE BRAMBLE TANGLE IS A MOVING SCULPTURE.
70. DRAGONS OF SPACE AND MATTER.
71. FALSE PERCEPTIONS MIMIC THE REAL -- A COVER.
72. THE BODY MAY BE DIAGRAMMED WITH COLORS AND ODORS.
73. THERE IS A FIRE AND TRAJECTORIES OF ENERGIES.
74. BEYOND THE MASK OF THE POINT ARE TRILLIONIC INTERLOCKED CONSTELLATIONS.
75. PLEASURES ARE NOT RELATIVE BUT ACTUAL -- BLACKBERRIES, SEA LIONS, TENDRILS.
76. PERCEPTIONS ARE HERETIC -- THEY NEGATE ABSENCE.
77. ABSENCE IS LACK OF PERCEPTION.
78. THE MUSSEL SHELL CRACKS ON THE ROCK.
79. WAVES OF WATER AND PROTOPLASM.
80. COYOTE SHIT -- THE TAJ MAHAL.
81. WINGED TIGERS ENCASED IN TRANSPARENT SILVER.
82. MY WHISKERS -- THE WOLF'S BEARD.
---
from Jaguar Skies (1975)
---
SONG
I'M AN EAGLE IN THE WHIRLPOOL.
I'm the fox of reason.
I have had my head bent for truth and treason.
I'm a star in the sunny moon light.
I'm the stumbling fool.
I'm the horse of night
careening on the cliff of flight.
Won't you kiss me?
Won't you hug me?
Please
tell me my name.
I'm the hand of April
with my fingers made of fame.
Come kiss me on my elbow.
Bless
my
mind
good night.
Sweet old flame.
Sweet old flame.
Bless my mind goodnight.
Come kiss me on my elbow.
With my fingers made of fame,
I'm the hand of April.
Tell me my name.
Please,
won't you hug me?
Won't you kiss me?
Careening on the cliff of flight.
I'm the horse of night.
I'm the stumbling fool.
I'm a star in the sunny noon light.
I have had my head bent for truth and treason.
I'm the fox of reason.
I'm an eagle in the whirlpool.

* * *

¡EL CERRO ES NUESTRO!
THE FLAME IS OURS!
We are the candle
that holds itself
aloft.
We are the Andes
among creatures
and our hands are soft
and our cotex
is a beacon
as are our toes.
You and I
are a river of light
that pours
and gleams
in
the
blue-black
snows.
We are perfect
as the tooth
of a squirrel!
--Lima-Huancayo railroad, Peru
---
from Antechamber 1978
---
THE RAINS OF FEBRUARY

THERE'S CRUELTY IN
EVERY JEWEL
and each black lump
of coal
was once
a multitude
of lives.
Within his skin
each guru
holds a fool
but
none
like
me
who secretly contrives
a liberation
filled with buttercups
and blue-eyed grass
and golden tracks of spring
upon the hill
and air that's filled
with scent of rose
and dill.

* * *

SESTINA

WE ARE WHITE FLAMES IN BLACK
and we are silver candles,
smiles on roses,
newborn babes,
otter consciousness,
and night shades.

We are ghostly shades
and the shapes of black
bonfires that melt through consciousness.
Perceptions are candles
and we are babes
who imagine the thorns of roses.

The petals of roses
make pink and blue shades
and scents over babes
who fear no black
candles
in the hugeness of consciousness.

We are the autumn of consciousness
giving birth to spring roses
by the silverware next to the candles.
Not all of the shades
nor all of the purple and black
convinces us we are other than babes.

You know we are babes.
Each thing is our consciousness.
The caves is black
but it is filled with roses
--and though we draw the shades
we light the candles.

The bright glow is from the candles
in the hands of babes
who outline the shades
of perception in consciousness.
See there are roses!
They stand in the black.

Those are candles of consciousness
that show we are babes and floating roses.
We are shades of flesh turning on black.
---
from Fragments of Perseus (1983)
---
LISTEN LAWRENCE

LISTEN, LAWRENCE, THERE ARE CERTAIN OF US
INTENSELY COMMITTED
TO
a
real
A REAL,
REVOLT! A REVOLT
that we only begin to
conceptualize as we
achieve it!
THE CONCEPTION
BEGINS SLOW
-- as we do it -- as we really do
it -- as we make the revolution
with our bodies -- our real BODIES!
OUR REAL BONES ARE NOT DIVISIBLE
from the bulks of our
brother and sister beings!
We're alarmed by the simultaneous extinction
and overcrowding of creatures:
WE
BELIEVE
that the universe of discourse
(of talk and habbit-patterned actions)
and the universe of politics
are equivalent!
THAT POLITICS IS DEAD
and
BIOLOGY
IS HERE!
We live near the shadow
AT THE NEAR EDGE OF THE SHADOW
((TOO NEAR!!))
of the extermination
of the diversity
of living beings. No need
to list their names
(Mountain Gorilla, Grizzly, Dune Tansy)
for it
is a too terrible
elegy to do so!

COMMUNISM,
CAPITALISM,
SOCIALISM,
will do
NOTHING,
NOTHING
to save the surge
of life -- the ten thousand
to the ten thousandth, vast,
Da Vincian molecule of which
ALL LIFE,
ALL LIFE
is a particle

*

LISTEN, BELIEVE
ME,
none of us can afford to luxuriate,
if we care about the presence of life.
The
whole scene
IS ALL ONE DIMENSIONAL!
MARCUSE was right!
because he saw there is
only one, one-dimensional, planet-wide civilization
and realpolitik.
Unfortunately
it is modeled on one of the most
perfect aspects of our nature: THE DESIRE
TO GROW, TO WASTE, TO BREED, TO BURN UP,
TO EAT, TO TOSS DOWN, TO TEAR UP, TO FINGER
AND TWIST, AND TEASE, AND MAKE ALL
THINGS TERRIBLE AND DIVINE,
AND GLORIOUS! And we have
succeeded TOO WELL,
TOO WELL!
We are the most complete successes
the world has ever known!
POLITICS
is
part
and particle
of this horrific success, success
which is -- in fact -- an explosion that has
ALREADY OCCURRED. We have charred
the surface of the earth leaving behind
buildings which are cinders from the blasts
of oceans of petrochemicals!
Look, books and papers are
the fossil fuel explosion of trees!
LISTEN, LAWRENCE, this
is the same old politics! ANY, ANY, ANY
POLITICS
is the POLITICS OF EXTINCTION!

*

IT IS TIME FOR PEOPLE TO COME OUT OF THE CLOSET
ALL RIGHT!
ALL RIGHT!
IT IS TIME FOR THEM
to come out of the closet --
OUT OF THE CLOSET OF POLITICS
and into the light of their flesh and bodies!
NOW
is
THE TIME
to learn to see
with the systemless system
--with the systemless system
like a Negative Capability --
of anarchist-mammal perception!
THAT'S BIOLOGY! Now is the time
to see that
it is our nature to be beautiful
and the destruction wrought by politics
is part of our beauty. Now we can learn
to see why it is our nature to go on with
this destructive politics. NOW WE CAN SAY:
LET'S STOP! LET'S STOP
THIS ENDLESS MURDER BY POLITICS!
LET
US
DO WHAT
WE CAN TO STOP
so very much useless pain!

It is our nature to overbreed and kill!
but our nature has endless dimensions! We
can choose among them -- we can reject,
we can reject the flowers of politics!

* * *

HYMN TO KWANNON

BEAUTIFUL KWANNON AND BEAUTEOUS GODDESSES OF MERCY!
WE THANK YOU KWANNON.
WE THANK YOU GODDESSES OF MERCY.
HAVE PITY ON EVERYTHING.
HAVE PITY ON EVERYTHING.
HAVE PITY ON EVERYTHING.
BE KIND TO YOURSELF, AS ALLEN SAYS.
BRING GENTLENESS TO EVERY LIVING BODY.
HAVE PITY, HAVE MERCY.
EVERYTHING LIVES.
HAVE PITY --
MERCY.
HAVE MERCY --
PITY.
EVERYTHING LIVES.
BE KIND TO YOURSELF, AS ALLEN SAYS.
BRING JOY TO EYES THAT ARE STARS.
JOY TO EYES THAT
ARE STARS.
ERASE
OUR
PAINS.
WALK WITH SOFT HEALING FEET
OVER OUR GRIEFS.
EVERYTHING LIVES.
KWANNON AND GODDESSES OF MERCY
FROM EVERY SPACE
IN THE UNCARVED BLOCK,
HEALING BEINGS IN EVERY REALM,
COME AND STEAL OUR PAINS
AND LAUGH AND KISS THEM.
HAVE PITY, HAVE MERCY.
MERCY AND PITY.
BE KIND TO YOURSELVES.

COME KISS OUR GRIEFS
ON THEIR NOSES.
BE KIND TO THE BEASTS
CAUGHT IN THEIR TRAPS.
GIVE THEM GRAIN,
GIVE THEM SUGAR
AND FREEDOM.
MERCY FOR THOSE WHO LIE
IN THE MUD
OF
THE
WARS.
SAVE OUR BELOVED WHALES,
KWANNON,
KWANNON,
AND THOU,
OH GODDESS OF MERCY.

WE CREATURES OF TURQUOISE AND FLESH AND FLUFF.
CALL ON YOU.
EVERYTHING LIVES.
BEAUTIFUL KWANNON AND BEAUTEOUS GODDESS OF MERCY,
WE THANK YOU, WE THANK YOU.
KWANNON BEAUTIOUS GODDESSES OF MERCY!
---
from Rebel Lions (1989)
---
MAYBE MAMA LION

for Ray Manzarek

OH
YEAH
! !

No,

it's oh yeah. . . oh yeah . . .; the wound
papered over, making paper tygers
--WITH A BANDAID . . .
BANDAIDS . . . BANDAIDS . . .
-
F
E
E
L
I
N
G
SO
BAD!
Out of body in the blackness.
Solid silver blackness of forty billion years
--in an agony of Crazy, knowing nothing
--looking for a self to hold the mind.
BEEN THERE MANY TIMES. BEEN THERE MANY TIMES.
The sand underfoot is just a blackness
to hold the blind. coming back to voices:
CALI, GOING BACK TO CALI, BACK TO CALI

FORNIA,
FORNIA,
NOT TO THE
FUR
N
A
C
E
-- but to the wound!

Many years covered over, still deep
S
T
I
L
L
there; TRIED TO BANDAGE IT
with long stem roses and white ferns.

((Lying on the beach watching chipmunks,
watching chipmunks and BUGS
and
ODD
patterns
ON
the leaves
HURT IN
MY SELF ES
T
E
E
M
!

((There's a bloody war outside that's whistling
through the wound!))

stretching
out to Someone
in
a
DREAM;
IT'S NO DREAM, STRETCHING OUT TO MAMA LION
IN A DREAM
SO BAD! FEELING SO BAD! ALL MY FRIENDS
HAVE LEFT ME
and we're eating rich food, rich food,
with the sound of silver clinking
on the finest plates
--IN CALI, GOING BACK TO CALI--
KALI,
we're eating you
in a dream. You're a salmon.
California salmon coming back to rivers
flowing from a head
on a cliff where folks look down on
the top of eagle's wings.

IT'S A GOOD LIFE!
IT'S A GOOD LIFE!
IT'S A GOOD LIFE!

(out of body out of mind)

--while the rain forests are coming down

Hear the crashing sound

IT'S DEEP INSIDE

Your life swinging round

your body.

Does Mama Lion love you?

Does Mama Lion love you?

DOES MAMA LION LOVE YOU?

Can the salmon drown?

* * *

DISTURBED BY FREEDOM

MY HAND IS A GUN AND EACH FINGER
IS A BARREL
and my arm is growing searching reaching
like a DREAM and I don't know
what to shoot, surely not the robins who have flown
ALL
the way
BACK
from the mountains of Sonora over the desert
where I have driven amazed at the craggy
strangeness of raw beauty.
((THAT'S WHAT I AM ABOUT: BEAUTY.
--BEAUTY AND SENSE))
and these robins have alighted here
in these green meadows where sprinkled water
turning warm runs over the masses of pink blooms.
I CANNOT SHOOT THE SOUND OF THE TRAFFIC.
A hundred bullets
would not stop that bus and I
would not hurt the children
or the adolescents at the moving windows
with their pink mohawk haircuts
and their sexual cries
LIKE HUMAN MACAWS.
It is another day and another dollar.
I
WONDER
WHERE
I
AM
((ROAMING SO SWEETLY FROM FIELD
TO FIELD DIS-
TURBED BY MY FREEDOM!))
--AND LOOK AT THE DEEP SCRATCHES THAT MADMEN
make with their keys on the sleek red
lacquer of my car.
I taste coffee in my mouth.
MY MOUTH IS WHERE I AM LIVING TODAY
but I am lonely as a skinny
old white cat with blue eyes
and irregular jagged spots of gray and black
showing a tiger pattern.
I am a tyger, I am an owl. I am some ancient wisdom
taking its own pulse and listening:
BANG!
BANG!, goes my finger.
BANG! Lover, I wish
we had bought
the purplish polish for your
toe
nails!
---
from Simple Eyes (1994)
---
THE FOAM
IT IS BRAVE TO BE THE FOAM
and sing the foam

IT IS BRAVE TO BE THE FOAM,

not really!

Inside is no place but an infinitude
of places
-- positions
becoming everything
in there.

THIS
is
THE FOAM

LIFE-LIKE STARS,
they too are the foam.
The deer antler fallen on the grass within the yard
is foam
as is the dew that mottles it.

Thousand foot deep clouds of one-celled beings
with shells of silicon and waving pseudopods
in oceans in another time and place
are foam
as are the uplifted peaks of shale they leave behind.
The visions of William Blake in future caves of thought
that are meat and plastic-steel are foam,
--as are Whitehead's luminous dreams
--all foam

Matter, antimatter, Forces, particles, clouds of mud,
the wind that blows in cypress trees, pools of oil
on desert floors.

THE BOY'S EYES NO LONGER SQUINT, LOOK DOWN

and there is nothing in his hand
nothing in his hand that's everything

and he stares through squeezed caves
of blackness
at a man's eyes
that shape a photograph of him
upon the fields of war and appetite
for iridescent foam of nacre-red and green and

MORTAR
THUD

on beaches on a wave-lapped shore

WHERE HIS MOTHER/FATHER SCREAM AND
SHOUT
and throw each other on the floor

and

HE

HAS
! ARISEN !

ebullient
from this exuberance
and wears his red Y upon his woolen chest
for it is his
--as is the future state

THIS IS NOT METAPHOR
but fact:
the green fur forest just beyond the sleek
and glossy plastic edge; shrews in their hunt
for crickets, hiding in moon shadows
underneath a rusting ford. Blue-black waves
beat on hulls of ferries. Light moves
from one place, or condition, to another!

HE'S THERE NOW AND EVERYWHERE
____________________________________

HE'S THERE NOW AND EVERYWHERE

as are the covers of detective magazines
with evil scientists who scalpel-out
the hearts of large-bosomed virgins
strapped to beds, then implant
the pump of chrome that sits upon
the operating table;
as is the broken toothpick lying
in the rain; as are the

HUGE

HUGE

HUGE

PASSION THAT HE FEELS

(shaking in his boy's legs and cock
--And those are the stuff of stars
that are the flesh of passions that he spins
into this rush of neurons and of popping foam.

These make immortal perfect shapes of the moments
that hold copper-colored leaves or twigs within
their hands,
with each foot upon a war and each arm
and every thought in one.

AN ANIMAL IS A MIND!

--A MIND--AND DOES NOT KNOW WHERE IT STOPS!

--Knows little of bounds or limits or edges.

--Goes on into all times and directions and dimensions.

--KNOWING ONLY THROUGH LIMITS THAT CANNOT BE KNOWN!

--IS A BEING OF SHEER SPIRIT!

--IS A BEING OF SHEER SPIRIT!

--IS A BEING OF BOUNDLESS MEAT!

--IS EVERYTHING IN ONE DOT OF THE CONFLAGRATION!

IS EVERYTHING IN ONE BARE DOT

IS EVERYTHING IN ONE DOT OF THE CONFLAGRATION!!

This is war that he is, and melts in

AND
IT

IS
NOT

FOAM.

HE

IS
A

BE-
ING

AND IT IS NOT WAR,
HE IS A MAN
! !

HE IS AN ANIMAL BEING
A
MIND

HE IS AN ANIMAL BEING
A
MIND

through the windows of his eyes
fingers and his eyes
---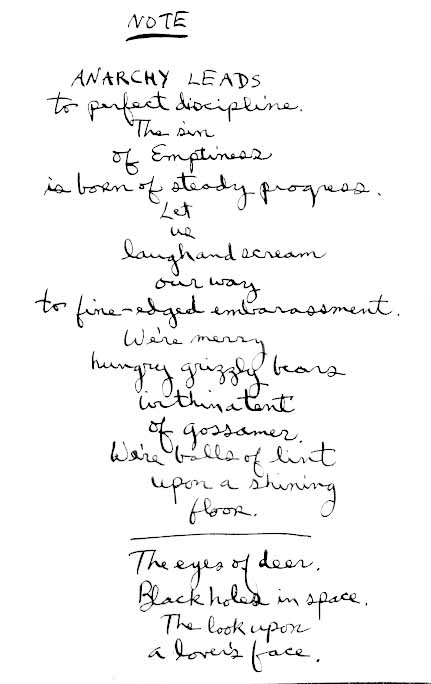 ---
Copyright ©
1959, 1961, 1967, 1969, 1970, 1974, 1975, 1978, 1983, 1989, 1994, and 1998
by Michael McClure.

Go to Michael McClure Home Page.

Go to selections from Ghost Tantras

Return to Light and Dust Poets

Light and Dust Mobile Anthology of Poetry