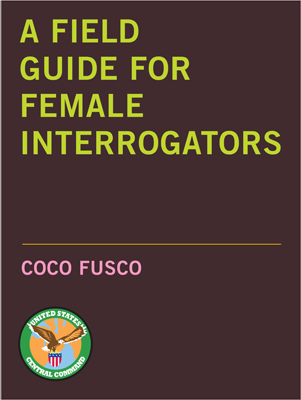 1/3
>

A Field Guide For Female Interrogators
| Publication | 2008
"Fusco confronts her deeply disturbing material with unflinching bravery and characteristic originality."
Publisher's Weekly
"…this primer is a layered and provocative anti-Miss Manners for the war on terror."
The Village Voice
The world was shocked by the images that emerged from Abu Ghraib, not only the US military of was implicated in institutionalized tortures, but also because women were seen as likely perpetrators of sexual violence. In the guise of a CIA manual,
A Field Guide for Female Interrogators
offers an unflinching look at women's role in the military at America's use of torture in the War on Terror. Framed as a letter to Virginia Woolf – who argued that women could prevent war – Fusco asks elemental questions about how the US military has capitalized on the growing presence of women in its ranks and how it is adapting originally feminist ideas about sexual assertiveness in its interrogation strategies.
To buy click
HERE